12:44 am
[mekkoujiro]

ZOMG SANZO
brack made me do it :<
11:45 am
[hentainobaka]

WTF??
Where is Dinger? I haven't seen, heard, read anything from him lately. ;)
Current Mood:
crazy
10:25 pm
[sloth_mobile]

Right now, I'd rather be hanging out with Dinger than this "Nekoi" person on the SCMB.
Dinger seems like a nice guy compared with Nekoi...
12:52 am
[fearless_son]

Penny Arcade has Dinger's number
Ah, The Classics!
I Don't Blame Them
Current Mood:
amused
11:09 pm
[pooru]

eya dinger its been awhile but remember teh pooru? XD;;; anne's friend. NOW IM A MAAAN rofl XD;;;; rawr anyhow hi and uhm hi xD;;;
1:33 pm
[nightflower84]

Entree for Contest
I wish I didn't make the background so busy, but I think we should all sign this picture, in whatever color ink, by mouse, drawing tablet or scanned from paper and pencel. I'll add your signitures if I win the contest ^^
Current Mood:
accomplished
6:05 pm
[pixxiy]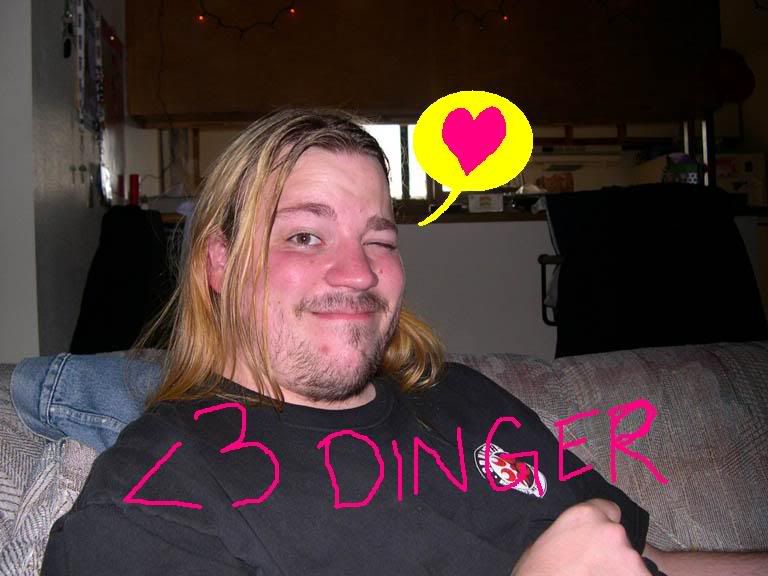 CONTEST YOU GUYS! CREATE YOUR COOL PHOTOSHOP/MS PAINT/WHATEVER SHOWING YOUR LOVE FOR DINGER! BEST ONE GETS TO BE IN TEH USER INFO KTNX
Current Mood:
silly
10:45 pm
[nightflower84]

Dinger Pictures
( Here are pictures! Enjoy!Collapse )
Current Mood:
cheerful
4:40 pm
[inhabitantj]

11:38 am
[sloth_mobile]